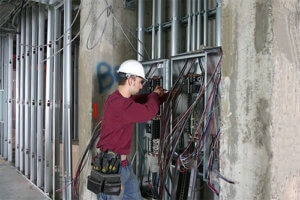 A commercial electrician is not the same as a regular electrician. What's the difference between the two and why would someone hire one? A commercial building is a different animal than your typical house or bungalow and therefore requires the skills of a commercial electrician. When electrical wiring work needs to be performed upon a public building, it is a governmental mandate to employ a licensed commercial electrician. How is this type of contractor different from a home electrician? Here are a few differences as well as examples of their typical duties and expertise.
– An industrial building is considered to be a municipal structure and therefore has an entirely separate set of codes, rules and regulations to adhere to. A home is a private space for a family or individual and doesn't need to meet the safety and durability standards of a municipal space.
Also Read: What to know in training to become an electrician
– Some of the different aspects of a public structure include hallways, doorways and bathrooms. Hallways, doorways and bathrooms must be accessible to handicapped persons by way of size, grade, pathway slope and maneuverability. When a construction is to be utilized by the public, it must be accessible to everyone regardless of his or her physical limitations.
– Fire safety is an important component of an industrial edifice. Fire alarms and wiring must meet strict codes and regulations in order to protect the public. Industrial electricians must be knowledgeable about all of these safety components.
– Emergency backup lighting is required in a commercial building and must be installed by a tradesperson who is knowledgeable and skilled in these requirements.
Looking for an electrician in the Chicago area?
– The type of wiring, circuit panels and breakers in a business building must adhere to a more stringent code of regulations. All equipment is more durable as well as costly.
– If zoning allows a building which was formerly a personal residence to be converted into a public structure, such as an office space, day care center, dentist suites or storefront, the areas must be brought up to code by instituting the appropriate standards of its new use. Electrical wiring must be converted to the more stringent codes, fire safety systems installed, hallways and bathrooms brought up to standards which conform to ADA (American Disability Act), parking and external walkways and setbacks must comply with these industrial and ADA standards, as well.
A structure may look like a private space and may have formerly been a private area, but when it becomes a structure that is zoned to serve the public, it enters a whole new world of safety, rules, codes and regulations. A commercial electrician will be the contractor to hire in order to comply with government regulations.
Also Check: How to hire an Electrician?