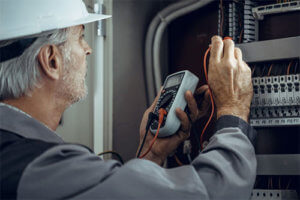 When you need an electrician, you should accept no less than the best available. Find out how to determine the "best" professional for your needs. When you set out to hire an electrician, you should accept no less than the best in your area. But what qualities set a company apart as the "best?" Well, there are a number of things you can do to determine this. One, read online reviews. Don't take a company's website testimonials as the gospel truth. They certainly aren't going to publish angry complaint letters, after all. But if you can find some good online reviews, you can begin to get a look inside the company's service. With as many resources as we have these days, there's hardly any excuse for choosing blindly. Here are some of the things that set a good company apart.
Also Read: Some helpful hints before calling an electrician
Professional Dress
Does it matter what an electrician wears to work? Some may argue that it does not. But there is another argument that says that professional dress is a reflection of company's dedication to customer service. It's a small thing, perhaps, but it matters. If you have to choose between two contractors of equal skill and one is in a clean button down uniform and the other is wearing greasy jeans and a trucker hat, which one will you choose?
Prompt Service
The best electrician companies don't simply pay lip service to giving the customer prompt service; rather, they put their money where their mouths are. Look for companies that have an on-time guarantee, as it can save you a lot of headache when it comes time to start waiting on your appointment. If you've ever dealt with service contractors who don't take promptness seriously, you know how frustrating the experience can be. If you know that you'll get free service when the contractor is late, it can take go a long way towards dissipating the anger.
Communication
It's one of the biggest problems in the service industry. When it comes to electrician companies, plumbers, and even car mechanics, there is a strange theory among many companies that customer service is hardly important. They don't bother to answer their phones, they aren't at the front counter when you walk in the shop, and they seem annoyed when dealing with a new customer. Don't accept this kind of treatment. While it may be the norm, there are quite a few companies that realize the customer isn't privileged for being able to pay them. Give these companies your business and, eventually, there might be a huge change in the way the service industry looks at their customer base.
Also Check: The Benefits of Hiring an Emergency Electrician