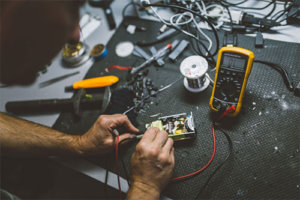 If you have one of these seven indicators in your home, it may be time to call an electrician. Allowing these problems to continue could put your family in a very dangerous situation. Do you need to hire an electrician? You may not know it if you do unless you know what signs to look for. If you are having any of these 'symptoms' in your home, it is time to call someone who is qualified to work on electrical systems.
Plugs Feel Hot
If the plugs or sockets in your home feel hot to the touch, you could have a very serious and dangerous problem with your wiring. It is time to call a professional to take a look and ensure that everything is safe. You do not want to put your family's safety and the safety of your home at risk. Heat could mean an impending fire.
Fuses Blow Often
Blowing a fuse from time to time is just part of using electricity, but if you find yours are blowing regularly from just normal use, call an electrician. This could be a sign that you are putting too much strain on the system, and this could put you at risk for a fire.
Also Read: Are houses wired in series or in parallel?
Brown Marks on Plugs and Outlets
Brown marks means something is smoking or getting too hot. This does not necessarily mean you have had a fire or are at impending risk for a fire, but it does mean that the potential is there. You do not want things getting too hot in your home, so call a professional.
Lights Dimming or Flickering
If you notice the lights in your home getting dimmer or flickering when you turn an appliance on, you could have a serious wiring problem. This could lead to a fire or the destruction of an expensive appliance. This may not be an emergency in the way hot sockets would be, but it does warrant a call to a professional.
Heating Items Not Heating Properly
When you plug in your iron or turn on your toaster, if it is not heating evenly or properly, there could be a problem with the electrical current running to it. Again, this is something a professional needs to tackle.
Also Read: Does burnt out bulb use electricity
Circuit Breaker Tripping
If you seem to blow a fuse without a logical reason, then something is wrong. The circuit breaker should not trip unless you are plugging in too many things for it. You could be asking too much of the circuit with just your normal usage, or you could have a faulty fuse or something wrong inside your electrical box. A professional electrician should be able to diagnose the problem easily, so talk to one before you try to fix it on your own.
Shrinking Television Picture
If your television picture starts to shrink or regularly shrinks during use, avoid the temptation to run out and buy a new one. It may not be your TV at all, but rather your electrical system. This is another time to call an electrician.
These things may not seem like a big deal to you at the time, but they can be very serious problems. Rather than waiting it out or trying to fix it on your own, you need to call an electrician. A small bill from an electrical professional is always a better scenario than the expense, danger, and life-changing nature of an electrical fire.
Also Check: Protect Your Household With A Skilled Electrician